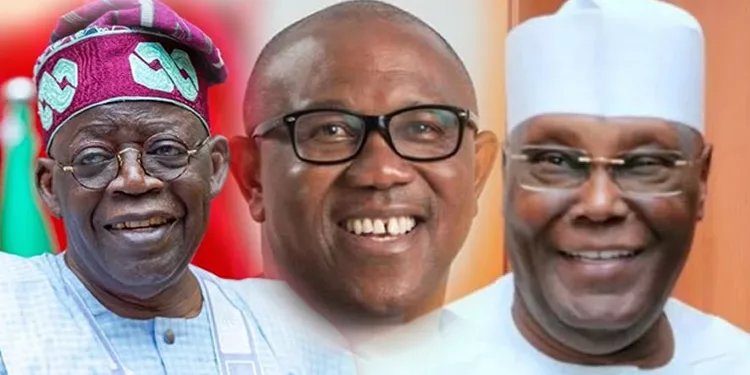 brotherhood."
In a veiled criticism of his PDP rival, Atiku, who had earlier told the northern elders that they should ignore candidates of Igbo and Yoruba extraction, Tinubu said, "The framers of this anthem, God rest their souls, will cringe to know that 62 years after, someone would come to this hallowed platform to campaign on the basis of tribe or where others come from."
On his plans for Nigeria as president, Tinubu promised to build on the successes recorded by the President Muhammadu Buhari administration in all sectors of the nation.
"Our economic plan would utilize the vast natural resources we have, through strategic investment in infrastructure which will lead to the diversification of the economy and wealth creation across the entire country.  We will pay attention to modern economic drivers such as the digital economy, creative industries, sports and entertainment sectors for the benefit of our young people.
"We shall support private businesses in our country and attract foreign direct investment to create jobs, re-industrialise our country and accelerate economic development. Nigerian businesses in sectors like banking and cement have successfully ventured out of the country to build thriving subsidiaries," he said.
Tinubu also promised to focus on using his experience of building human capital, which made Lagos one of the largest economies in Africa, to grow the nation's economy to an enviable height.
"I will ensure that we take advantage of our resources to convert cotton to textile, plants to pharmaceutical products, groundnut to edible oil, cassava to ethanol and starch, etc., thereby building competitive advantage for our farmers through value addition."
Tinubu said North has a greater advantage in agriculture and under his presidency, the region will emerge as the hub of agribusiness in Africa through huge investment in the sector in collaboration with the private sector.
He said, "Agriculture is of special interest to me. It is both an economic and existential issue for every country.
"Experience in the last seven years has shown the potential of agriculture in solving the problem of unemployment and boosting our GDP. For example, recent investment in the rice value chain has led to the springing up of rice mills across the country with attendant wealth creation and a reduction in our import bill.
"The North has a greater advantage in this regard due to its large and abundant arable land. My vision is for the region to be the hub of agribusiness in sub-Saharan Africa.
"We will improve investment in our livestock value chain, specifically, subsectors like the dairy industry that have the potential of adding billions of dollars into our economy will receive significant attention."
On his plans for education and helping reduce the out-of-school children in the North, the APC presidential flag bearer said: "Millions of our children are currently roaming the streets instead of being in classrooms.  My administration will invest heavily in infrastructure to allow for proper integration of these children into our conventional schools.
"Education is the most effective weapon against poverty. Compared with other countries, education in Nigeria suffers from a funding deficit on account of our population and limited resources. I will provide the required leadership and mobilise investment for the development of the sector. We will work with both states and local governments to reform and retool the system. These reforms will give special attention to the welfare and training of our teachers and lecturers as a necessary catalyst for the better system we desire."
 I Will Unlock Nigeria's Greatness – Obi
On his part, the presidential candidate of the Labour Party (LP) and former governor of Anambra State, Mr Peter Obi, told the northern leaders that Nigeria at the moment qualifies to be referred to as a failed state and that he would work to restore the country's greatness which had been undermined by poor governance over the years.
According to the LP presidential hopeful, when a country is no longer in control of the economy and security, such a country is nothing but a failed state, stressing that if elected president in 2023 he will positively change the narrative.
Obi stated this during an interactive session organised by the Arewa Joint Committee made up of the Arewa Consultative Forum (ACF) Northern Elders For (NEF), Sir Ahmadu Bello Memorial Foundation (SABMF), Jamiyyar Matan Arewa (JMA) Arewa House (Centre for Historical Development and Research) and Arewa Research Development Project (ARDP).
"Nigeria is not bereft of ideas but institutional weakness and lack of political will to effect genuine change that will better the lives of average Nigerians," he said, adding that he is committed to unlocking the greatness of the country and lifting it from a consuming country to a producing country.
Township Stadium in Kaduna, Atiku thanked the people of Kaduna for giving him the highest number of votes in 2019 and pledged to take issues concerning Kaduna seriously if elected in the 2023 election.
Atiku said, "Let me thank you for your support in 2019. You gave me the highest number of votes in 2019 and I believe you will do so this time around. I have come here on behalf of PDP to tell you If you vote for us, we will end insecurity in Kaduna. We will revive the industries in Kaduna in partnership with the private sector of Kaduna."
sponsored by the All Progressives Congress (APC).
The party said the unprovoked attack is not only reprehensible but also exposed the desperation of the APC which is overwhelmed by the continuing popularity of the PDP and its presidential candidate, Atiku Abubakar for which they have now resorted to violence.
The PDP national publicity secretary, Hon Debo Ologunagba, said the aim of the APC for this attack was to frustrate the PDP Presidential rally, trigger tension, violence and cause bloodletting in Kaduna State.
He added that this is contrary to the undertaking in the Peace Accord signed by political parties on September 28, 2022 in which the presidential candidate of the APC was conspicuously absent.
He said, "The APC is intimidated by Atiku Abubakar's popularity and acceptance among majority of Nigerians following their confidence in Atiku Abubakar's practical experience, record, capacity, broad-mindedness, Pan-Nigerianism and willpower to unite our nation, revamp our devastated economy and guarantee security of lives and property in our country.
"In any case, our party is undeterred by such cowardly attacks as Nigerians are already connected with our issue-based campaign and Atiku Abubakar's message of hope which is already resonating throughout the nooks and crannies of our country."